My name is Kristen Howell and I am the new Director of Young People's Ministries here at First UMC. I am so thrilled to be here and serving alongside youth and young adults!
I grew up in Olathe, Kansas where I currently live with my husband, Ryan, and our two cats, Squeaky and Weasley. I'm a 4th (and FINAL!) year seminary student pursuing my MDiv from St. Paul School of Theology. Later this year, I plan to begin the ordination process as a Deacon in the United Methodist Church.
Taking this job was my answer to the call that God has placed on my heart for full-time vocational ministry. Thank you to those that I have already met for the warm welcome. If I haven't already met you, I look forward to getting to know you and your family!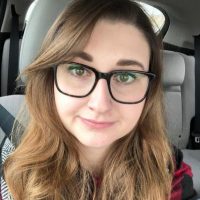 Kristen Howell
Director of Young People's Ministries