The following are areas where we serve within our church and the community. If you don't find what you're looking for or have other questions, please e-mail office@fumclvks.org or call the office at (913) 682-5374.
Community Meals
Many churches in the community provide meal to anyone who is hungry. Our church family cooks and serves on the 1st and 4th Saturdays of the month as a "drive-thru" meal.
Our church family also supports Trinity House, the food pantry at Trinity Lutheran. You can find a list of local food pantries here.
Prayers
Email your prayer requests to prayers@fumclvks.org to get them sent to the prayer warriors on our prayer chain.
Aging and Senior Care Resources
Music Academy
We have opened our educational building as a space for the Leavenworth Music Academy to give lessons in a variety of musical instruments. Find more information at https://www.leavenworthmusicacademy.com/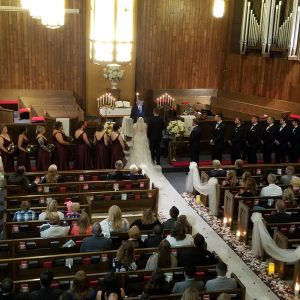 Weddings
The gothic architecture of our church can add that elegant touch to the ceremony you've always imagined. If you are looking for something small and intimate, our chapel in our educational building is perfect for that small family wedding. Contact the office for information and review our Wedding Covenant.