Before moving to Leavenworth, Rev. Dr. Dave York's most recent appointment was to Laurel and Logan Center UMC in Laurel, NE. Previously, Rev. York served for eleven years at SonRise Church, a United Methodist Ministry in Pueblo West, CO. During his tenure, the church saw significant growth, more than doubling in attendance. SonRise ranked fourth overall in the Rocky Mountain Conference in percentage of church growth from 2006-2015. The congregation moved into a new facility and community in 2007. Other accomplishments included creating a sister church relationship with Kabala UMC in Sierra Leone, West Africa. SonRise helped to build a UM church which was dedicated in 2012. SonRise also created a school/community partnership with Liberty Point International School in Pueblo West. A Matthew 25 vision began at Sonrise to emphasize ministry to "the least of these" in the community. During Rev. York's tenure at SonRise, over sixty parishioners attended Walk to Emmaus. Rev. York has traveled to South Korea, China, Brazil, Sierra Leone and Kenya in the duriaton of his ministry.
Originally from Seneca, Kansas, Rev. York received his undergraduate degree in Social Science Education from Bethany College (1987) in Lindsborg, KS. He taught middle social studies and coached various sports for fifteen years. During his educational career he earned his Master's Degree from University of Northern Colorado in 1997 in Elementary Education. Rev. York answered a call to ordained ministry in 2002 when he enrolled at Asbury Theological Seminary in Wilmore, KY. Rev/ York earned his Master of Divinity from Asbury (2006) with distinction. He graduated from the prestigious Beeson International Center for Biblical Preaching and Church Leadership with his Doctor of Ministry (2016). His dissertation topic was introversion and effective pastoral leadership.
Dave has been married to Rhonda since 1988. She was born and raised in WaKeeney, Kansas and grew up on a farm. In her life, Rhonda has been an ordained UM Deacon, voice professor at two different colleges, and is a black belt in Taekwondo. Rhonda is currently working on certification as a dog trainer. They have one son, Taylor, who is attending Bethany as theater/communication major with a religion minor. Rhonda and Dave are fourth generation Kansans and met at Bethany. The Yorks are a three dog family with Buddy (black Lab), Angel (yellow Lab), and Clair (shelter rescue Australian Herder mix). Dave has been an avid KC Royals fan and follows baseball religiously.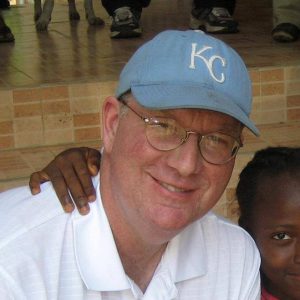 ---
Rev. Dr. David York
Senior Pastor