Nancy Shade joined the staff of First United Methodist Church in January of 2007 as our Coordinator of Christian Education. She was born and raised in Council Grove, Kansas. Before her family re-located to Leavenworth in the summer of 2006, she and her family were active members of the Madison United Methodist Church in Madison, Alabama for 16 years. She and her husband Bill were high school sweethearts and have been married since 1986. They have three children, Christine, Steven and Caleb. Nancy enjoys music, reading, spending time with her family and all things "Kansas", especially sunflowers. She is happy to be a part of the FUMC staff and to have such a caring church family.
1. Favorite scripture/quote: "For I know the plans I have for you," declares the Lord, "plans to prosper you and not to harm you, plans to give you hope and a future." Jeremiah 29:11
2. Favorite Movie: The Princess Bride- It's funny, it's witty, and true love wins!!!
3. Favorite Food: My Grandma Keyser's chicken and noodles and parkerhouse rolls, my Grandma Evan's dumplings, My mother-in-law's homemade spaghetti sauce, my mother's cherry coffeecake…..I could go on and on!
4. If you could have any occupation without restrictions, what would it be: An inspector for hotels and resorts (especially those with beaches!) O.K., I've re-thought this one….I think what I'm doing now is pretty wonderful. I don't know how I would top it!
5. What CD is in your CD player right now: Not much time for CD's anymore. Starting to listen to the new VBS songs, though. The theme song is my favorite! They are awesome!
6. What do you do for fun: Swim, go to a movie, spray my youngest with the garden hose!
7. Best part about your job: Getting to do what I love, with people I love, for the God I love.
8. What or Who inspires you: When a teacher/preacher gives me a fresh word…a child that comes up with an answer that's different (and usually better) than the one I was planning for…The Author and Creator…..a newborn baby…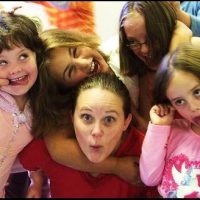 ---
Nancy Shade
Director of Christian Education