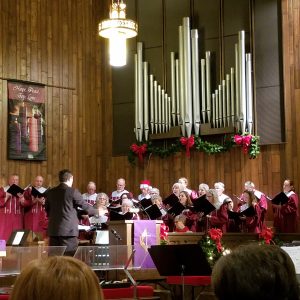 When people think of the arts in worship, they typically think of music. Here at FUMC-Leavenworth, we strive to expand the vision to include ALL sacred arts in worship and in ministry. The arts have a special ability to enrich the lives of those who worship and in the everyday life of the community. We have categorized the various arts into the following areas:
Performing Arts

Practical Arts (Domestic)

Literary Arts

Visual Arts
Performing Arts
Performing Arts include things such as music, dance, drama, puppetry, and various other skills related to bringing art to life in the church setting. We have historically been a very musical church and have been blessed with many talented musicians over the decades. There are a variety of vocal and instrumental music ensembles in which to participate. The pipe organ has long been a focal point in our sanctuary and we have enjoyed a close relationship with the KU School of Music's organ program. Opportunities for drama and dance are often available for both adults and children, especially during the holidays and in the summer. If drama isn't your thing, but don't mind speaking in public, you can be added to our list of scripture readers on Sunday mornings. And we are always encouraging individuals to find new ways to use their talents to help enrich the worship and congregational experience.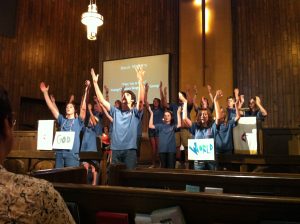 Practical Arts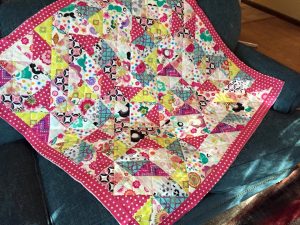 Practical Arts include those skills which are often found in domestic settings: culinary skills, sewing/quilting, knitting/crocheting, decorating, and landscaping/gardening. Individuals with these talents offer their skills to the church on a regular basis, either on their own or through a variety of small groups. The Itchn' to Stitch group meets weekly and heads up our quilt ministry, while other in the congregation use yarn to create prayer shawls. Every month our Samaritan's Buffet provides two free Saturday meals to the community, and there is always room on the team for those who like to prepare, cook, and serve delicious hot lunches. In the past, we have had a community garden, and in the summer and fall, members often share the abundance from their own vegetable patches. We have a talented crew of people that decorate the sanctuary and gathering areas of the church, helping to create a space that is inviting and encourages worship and reflection.
Literary Arts
Literary Arts in a sacred context includes the creation of not only novels and poetry, but also literary analysis and scriptural study. At any given time, our church has a variety of groups engaged in in-depth biblical study and discussions of relevant religious literature. Most of these are organized by members of the congregation that have a talent for the literary arts. Throughout the year, we invite members to submit items for our monthly newsletter and our special devotional booklets. Maybe you've been called to create a biblical comic book and a children's bible adventure…creativity is encouraged, and we are always looking for new ways to engage others.
Visual Arts
Visual Arts (2- and 3-Dimensional) includes painting, drawing, sculpting, carving, woodworking, architecture, photography, and digitial graphics and design. You will see examples of these throughout the church. We often have the fruits of our congregation's creativity on display, as well as in use during worship and in our publications.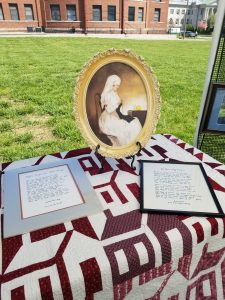 As you can imagine, there is quite a bit of cross over between the artistic fields, and they are often used together to create an atmosphere that inspires and uplifts. This list is by no means exhaustive and is intended to help recognize that there are MANY areas of the arts which can be used to enrich worship and enhance our ministries to others.