Angel Ministry
Our Angel Ministry is very active in the care of our older congregation Congregation members who are 80+ years old can be assigned an Angel volunteer. Each volunteer Angel visits his/her "octo" monthly and calls periodically to check on them. They may take something when they visit, such as a copy of Sunday's bulletin if their octo is homebound, an Upper Room devotional or a small treat or goody bag on holidays. Strong bonds are forged and new friendships are made with the entire family. Many of our friends feel more engaged with the church as a result of this involvement.
We would love for you to become an Angel volunteer. Contact our office and we'll connection with the Angel Ministry Coordinator, Teresa Hicks.

Prayer Mantle Ministry
Prayer Mantles are tangible evidence of prayers to those in need of comfort, peace, and spiritual support during times of sickness and loss. The prayer mantle is intended as a reminder of the church's continued love and concern for the recipient. Whenever the person is sick, injured, or grieving, the person is encouraged to wrap up in the mantle and thus feel God's love and strength emanating from the mantle. God's love never ends, and the church's love and concern continue through the prayer mantle over time and through multiple needs. Let us know if you have someone you needs to experience God's love through one of these prayerfully crocheted mantles.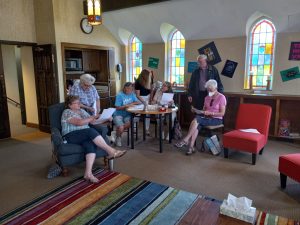 All brought to you by our Nurture Team